HISTORY OF INVERSION
3000 BC
Yoga

Drawings of inverted yoga poses have been found on ancient stone seals.
In yoga the headstand is done to:

• balance the body
• stimulate circulation
• enhance mental function
• normalise glands
• release pressure on abdominal organs

Photograph by John C. Huntington Courtesy of The
Huntington Photographic Archive at The Ohio State University

400 BC
Medical field

Hippocrates, Father of Medicine, took inversion a step further by combining it with traction to enhance the effects. Patients were strung upside down to a ladder using ropes and pulleys.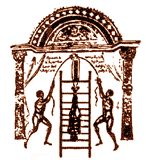 Inverted traction added the following additional effects:
• relieve back pain
• improve posture and alignment
• increase flexibility
• strengthen ligaments and joints


1960's
Simplified

In the 1960's Dr. Robert Martin, a California osteopath, chiropractor and medical doctor, introduced the "Gravity Guidance System" a revolutionary way of making it easy to invert.
He appeared on talk shows, and was featured in Wall Street Journal and Time Magazine, teaching the importance of particular postures in preventing and correcting structural problems, of which inversion is one.


1970's
Widespread

A book published in late 1970's by Dr. Robert Martin Jr. further increased the spread of inversion, and other manufacturing companies began to enter the market.
By the 1980's it was a craze in full-swing. Gravity boots were popularized by the movie "American Gigolo" with Richard Gere, and thousands of people were inverting regularly.


1980-1984
Slump

Before long over 40 manufacturers were competing, and some manufactures were sacrificing quality to cut costs and prices. Unrelieable products appeared on the market, which sometimes collapsed.
A medical study published in 1983 by Dr. Goldman, reported that inverted patients experienced increased blood- and internal eye pressure. The media misinterpreted the findings and created a huge scare through warning of potential stroke hazard.

However, there had never been an incidence of stroke, the only injury having been caused by inferior equipment.


1985-1990
Revival

Two years after his original study, Dr Goldman reversed his initial evaluation, and stated: "New research shows that you are at no more of a stroke risk hanging upside-down than if you are exercising right-side-up."

They found that the body has mechanisms that prevent damage while inverting, and in fact, while oscillating up-and-down some patients' blood pressure even dropped a few points.

Experienced inverters also showed slower heart rates while inverted than when upright. (Results were based on patients in generally good health, so please take note of contra-indications.)
Dr. Goldman stated that in the 15 years of inversion to that time, there had not been a single stroke or cardiovascular incident. Even to date, according to Teeter Hang Ups, after 36 years, to the best of their knowledge this statement is still valid.
Other universities, including Marquette, Iowa, and Portland studied inversion during this time, with results that vindicated inversion as no more dangerous than other common fitness activities.
Rescuing the image of inversion was not easy, so its use was reduced to just a few professionals - chiropractors, physical therapists, sports trainers and professional athletes.


Late 1990's - Today
Recognition

Teeter Hang Ups worked for years to rebuild the reputation of inversion, and it is regaining recognition, mostly as a natural way of effectively healing back problems.
After several years of evaluation, the US Army Physical Fitness School incorporated inversion into its world-wide progamme to reverse effects of compression sustained during training.
In 2007, Newcastle University, UK, performed a study on patients scheduled for surgery for bulged disc causing sciatic pain.

While waiting for surgery, members of the experimental group engaged in a regular routine of inversion therapy, while the control group did general stretching exercises.

The inversion group had excellent results, which reduced the need for an operation from 78% to 23% compared to the control group.
In April 2008, Teeter Hang Ups was featured on 'Good Morning America' and received the highest mark of all the fitness equipment profiled.
Teeter Hang Ups is the leading suppier of quality inversion products that help people around the world improve their quality of life.