TEETER HANG UPS
QUALITY INVERSION TABLES IN SOUTH AFRICA


Teeter Hang Ups EP-950™ | Features | Specifications
Medical Approval | Quality Testing | Comparison to Other Brands

---
TEETER HANG UPS EP-950™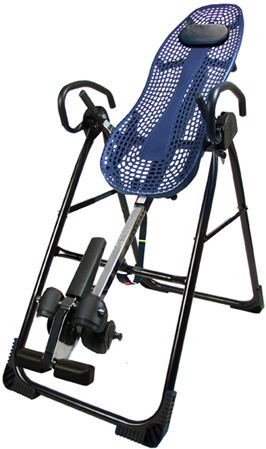 Ideal for virtually all ages and body types:
Maximum weight capacity is 136 kg (300 lbs).
Minimum height: 142 cm (4' 8")
Maximum height: 198 cm (6' 6").
Simple adjustment for individual size:
There are two settings, one controlling sensitivity of the swing,and the other for height, taking into account the body's weight distribution (heavier upper or lower body).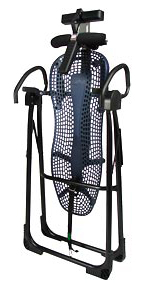 Easy to store

Folds in a few seconds
for convenience.
Folded dimensions are
168 x 71 x 36 cm
Assembly is minimal, being 95% pre-assembled.
---
Backrest
Movement in traction promotes re-alignment, and the backrest moves with you, allowing for increased range of motion. Smooth surface allows the body to slide and achieve the optimum stretch.

Adjustable pillow.

Pristine appearance over years of use: no tear, no stain, durable, easy to clean.
Simple Height Setting
Measurements are embossed in centimeters and inches.


Ankle Lock
Simply pressing down on handle opens and closes ankle clamps.
Triple lock security feature.
Traction and Support Handles
Pushing heels of hands up against support or traction handles increases traction on the lower back. Handles make it easy to move up and down.
Tether strap: Like 'training wheels' allows you to relax while getting used to inversion, as it gives the option of 'locking' the backswing at a pre-set angle.

Ankle Comfort
The foot platform can be adjusted higher or lower to allow a comfortable fit for smaller or larger feet.
Robust Medical Grade Frame
Stable base and floor protection
Corner feet increase width of the A-frame base by 20% and reduce sliding on hard surfaces.
Security Features
Auto-locking hinges, cam locks, and heat-treated steel parts enhance security and reliability.
Smooth, Quiet Rotation
A de-ratter knob and specialized pivot bearings ensure a lifetime of smooth silent rotation.
High Quality Finishes
Scratch-resistant powder coating and triple-plated chrome.
DVD
Assembly instructions

Healthy Back Classes by Dr. Shawn, including:
Good Morning (wake up and warm up your spine)
Strength & Stretch (building core muscles),
Posture Correction (look better and function better),
Gym Ball (core-building class),
Inversion Table (to maximise benefits from your backswing).

---
| | |
| --- | --- |
| Warranty | 5 Years subject to normal recommended indoor use (excl courier charges) |
| Assembly | 95% pre-assembled. Includes tools for assembly. |
| Assembled Dimensions | 114L x 71W x 147H cm |
| Packaged Dimensions | 127 x 70 x 18 cm |
| Packaged weight | 33.6 kgs |
---
Every backswing carries medical certification according to U.S and E.U standards.
CE certification from the E.U, and UL (Underwriters Laboratories) from the U.S.

---
2 tests were conducted by an independent US company, Dynamark Engineering, to assess quality variation in 7 of the most widely-sold brands worldwide.
1. STATIC TEST
7 competitor brands were inverted fully, and weight was applied to the point of collapse.

Teeter was the only table that withstood more than 4 times its maximum recommended weight (of 136 kg). This is a requirement for medical approval.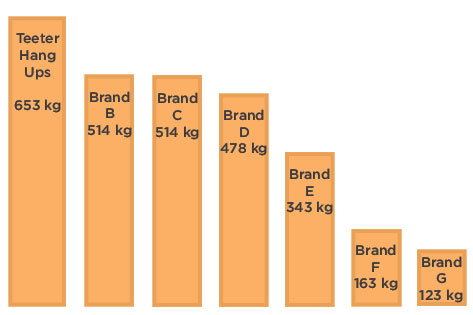 2. DYNAMIC TEST

The same 7 brands were loaded to their maximum recommended weight, and rotated until they collapsed.
4 rotations were taken as the equivalent of 1 day's use.

Teeter was the only table that was voluntarily stopped after 68 years of use.

The weakest competitor collapsed after 5 months' use.
The strongest competitor collapsed after 15 years' use.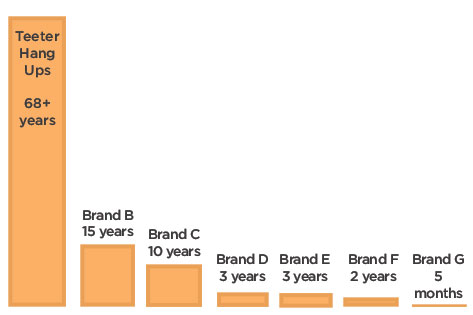 ---
COMPARISON TO OTHER BRANDS
The more relaxed you are while inverted, the more responsive your body is, and the greater the benefit. In the hands of a quality product you can truly relax, and Teeter Hang Ups is unmatched in strength and durability. (Details of comparative testing are under 'quality testing' above).
1. MEDICAL APPROVAL
Teeter is the only inversion table approved according to US and EU medical standards. Each table bears the UL and EU certification labels at the back of the main shaft.

US APPROVAL; Underwriter's Laboratory is an independent US organisation that carries out high-standard quality-testing. Tests for approval of inversion tables, UL1647, include durability, strength, stability, structural integrity under extreme conditions and accurate communication of instructions for use.

EU MEDICAL APPROVAL: Classified under Medical Device Directive 93/42/EEC. On the label, below the letters 'CE', is the number that indicates it's a medical CE.
2. STEEL QUALITY
Teeter products are made entirely of new steel. Other brands may use recycled steel.
The steel of key components is heat-treated.
For comparative quality testing see: 'Quality Testing' above.

Quote on metal fatigue by designer-engineer, Roger Teeter, originator of Teeter Hang Ups:
"Designing fatigue out of a given structural application requires special steels, like heat-treated steel. My aircraft experience was a big help in designing Teeter inversion tables to be fatigue-resistant. Currently Teeter is the only brand that meets the new UL specification, UL1647, which tests inversion tables in real-world use." (More about Roger on the page 'About Us'.)
3. PROTECTION OF MAIN SHAFT
Teeter: The main shaft is triple-coated, the outer coat being outdoor-quality chrome, as used for motorbikes.
Other brands: Powder-coat or paint.

As there is movement along the shaft every time the height setting is changed,
Teeter has taken special care, to prevent chipping and rusting.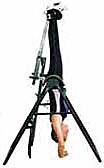 4. FREE TO DO EXERCISES
Teeter: When fully inverted, you hang free of the bed, so you can comfortably do sit-ups and other exercises.
Other brands: When fully inverted, your back remains resting against the back of the bed, which means the bed could keep trying to return to the upright position while exercising. In fact, getting the back of the bed up against your back is the way to return to the upright position.

5. STABILITY
Teeter's base-to-height stability ratio is on average 20% greater than other brands. The smaller the ratio, the greater the risk of instability.

6. FLEXIBLE BACKREST
Movement while inverted promotes re-alignment, which is why the EP-950 has a flexible backrest that allows for movement. This patented flex technology is unique to Teeter.
7. BALANCE
Teeter products are finely-balanced for a smooth swing.