for
swopper
ACTIVE OFFICE CHAIRS
as described in the Golf Digest, please go to the new Back & Body website at:
http://backnbody.co.za
Thank you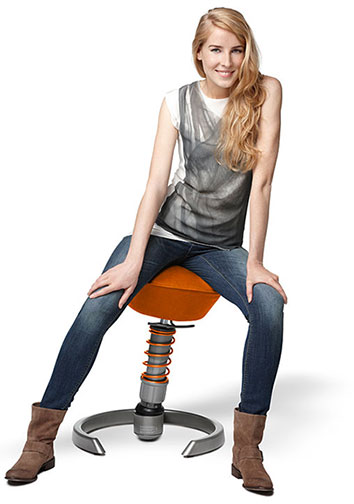 Backswing for Health follows below...
---
BACKSWING FOR HEALTH FOLLOWS HERE...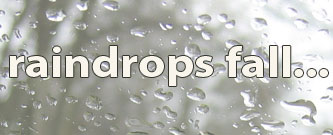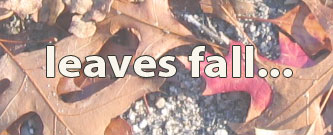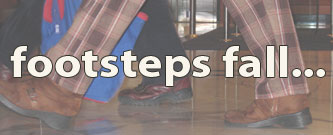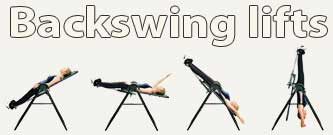 ---
Derek Watts of Carte Blanche Inverts | Why Invert | Story of your Discs | Gravity Force | Degeneration | Under Pressure 24/7 | Pressure Intensified | One-Sided Sports | Discs Affect Posture and Flexibility | Back Pain | Turnaround | Regeneration | There are 2 Ways to Release Pressure | Medical Study on Back Pain | Remarks | 10 Good Reasons to Invert | Back to Top
IS YOUR BACK PAIN SCREAMING AT YOU
TO TAKE OFF THE PRESSURE?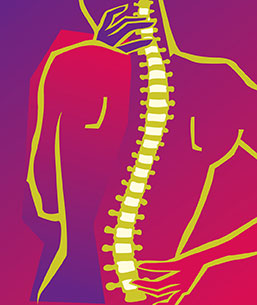 Easier done than said!

the backswing does nothing -
EXCEPT HELP you inTO a position that
allows your SPINAL DISCS TO REGENERATE


IN A NUTSHELL

Sitting places 50% more pressure on the discs of the lower back than standing.
Lying down, the discs are still exposed to 25% of standing pressure.
Inverted at 60º below horizontal (3rd diagram above) your discs are completely free of pressure,
and can regenerate more fully, possibly even completely.
The body is quick to respond, and benefit in terms of pain relief
has been recorded within the first 10 seconds.
You can gain up to 5 cm in height as your discs regenerate.


EXERCISE INTENSIFIES COMPRESSION ON DISCS

Most sport and exercise increase pressure on joints and discs.
This compression helps strengthen the body.
AS MUCH AS WE NEED COMPRESSION, WE ALSO NEED DECOMPRESSION.
Inversion allows the body to de-compress naturally.
It is the quiet side of fitness, and allows the body to regenerate.



5 GOOD REASONS TO INVERT
1. Relieve back pain
2. Regenerate spinal discs
3. Increase flexibility and range of motion

4. Improve posture and alignment
5. Stimulate circulation and lymphatic flow

For video demonstration on use of the Backswing click here
---
DEREK WATTS OF CARTE BLANCHE
INVERTS EVERY DAY

on a teeter Hang Ups
Carte Blanche presenter, Derek Watts appeared upside-down in the Sunday Times
of 31 October 2010. The interviewer's question: 'You can't go a day without...?"
Derek's response:

"I can't go a day without doing two headstands. If I don't wake up in the morning and do a headstand, I don't function.
And if I don't do one before going to bed, I won't fall asleep.
I have been doing them from about the age of eight. At home I now have a back swing ...."
Click here to see the full article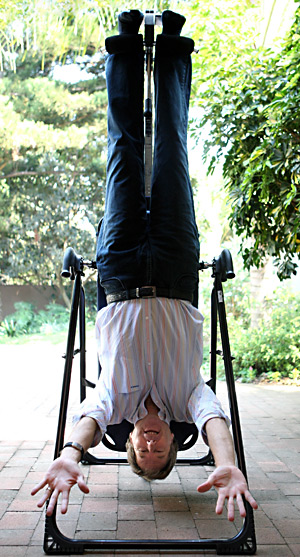 Picture: Simon Mathebula/Sunday Times.

---
1. Well-being depends on the health of your spine

2. The health of your spine depends on the natural curves of your spine.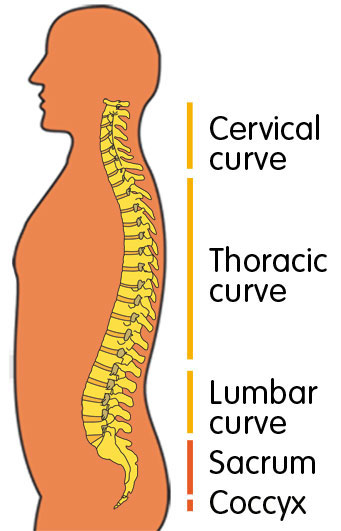 3. The natural curves of your spine depend on the condition of your discs.

---
STORY OF YOUR DISCS
The discs are little cushions filled with gel.
They fill the spaces between your vertebrae to keep them in place and separate from each other.
YOU NEED THEM FOR:

fluid movement
good posture
flexibility
alignment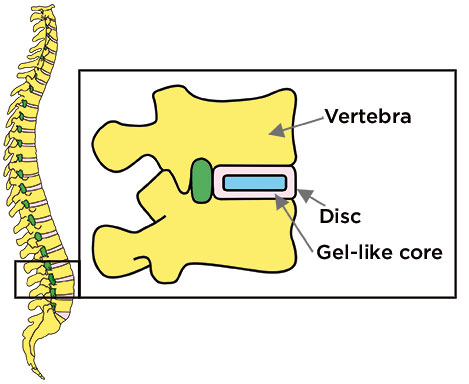 ---
GRAVITY FORCE

Gravity weight forces your vertebrae to put pressure on discs.
As they are compressed, moisture is squeezed out.
Over time the gel can harden and flatten to the extent that discs cannot provide proper support.
RESULT IS:

loss of height
poor posture
misalignment
inflexible
back pain
loss of body shape
restricted movement
degeneration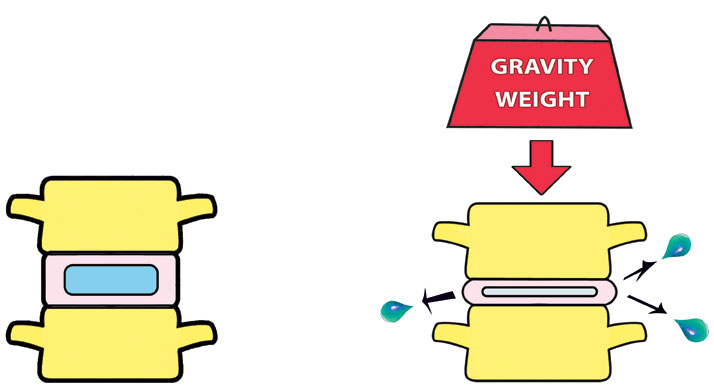 ---
DEGENERATION
'Old age' is the cumulative effect of a process already happening day-by-day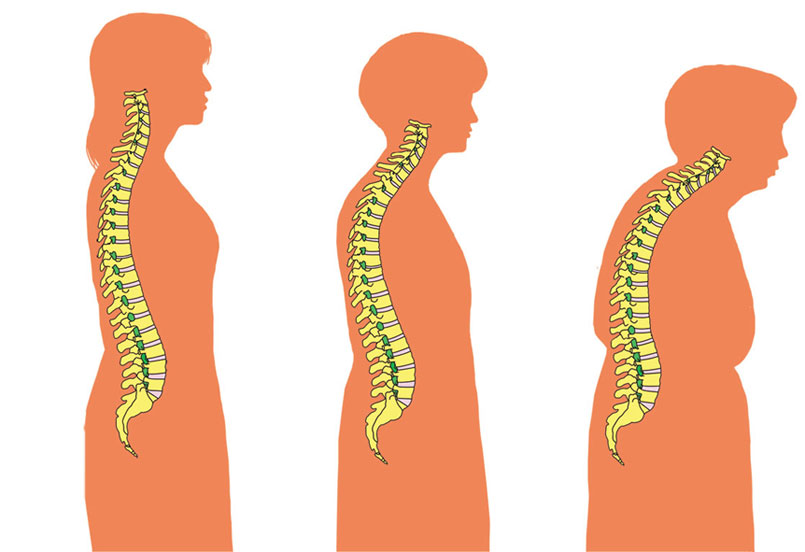 ---
UNDER PRESSURE 24/7

Discs are under pressure day and night.

Bending over doubles pressure on the lower back relative to standing.
Sitting, it is 150% of standing pressure. Lifting yourself from a chair raises it to 250%.
When lying down it persists at 25% because of all the muscles and ligaments
that hold the spine in compression like a mass of elastic bands.

All pressure is released when inverted to 60°.



Nachemson, Alf, et al. "Intravital Dynamic Pressure Measurements in Lumbar Discs." (1970): 1-38
LIMITED REGENERATION
AT NIGHT YOU REGENERATE, BUT NOT 100%
WHY?

25% PRESSURE ON DISCS AS YOU SLEEP
Every day you can lose up to 2 cm in height as discs flatten through the course of the day.

At night you renerate almost 100%, but not completely, because of the 25% residual pressure on discs as we sleep.
This is the reason for the degeneration associated with 'old age' that cumulates slowly over time,
and through this process we can lose up to 5 cm in height.

If lying down reduced the pressure to 0% we could regenerate completely every day.

---
PRESSURE INTENSIFIED
Weight training, aerobics and most sport intensify compression.
Although this is beneficial for bones and joints, de-compression is just as important, to give the body a chance to regenerate.


MEDICAL STUDY
A medical study found that running 1 kilometer with strides of 1,5 metres, a person weighing 70 kg exerts a load of 60 tons of pressure through the lower back.
(W Van Mechelen, Running Injuries, 1992. Review of the epidemiological literature, Sports Medicine Magazine, Vol 14 No 5, Pg 320-335)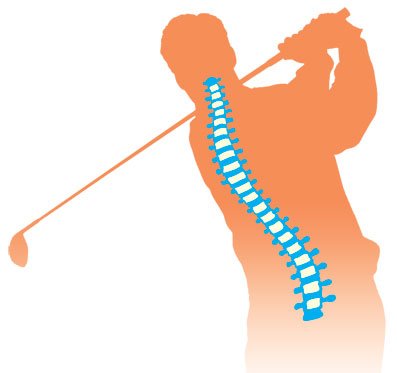 ---
DISCS AFFECT POSTURE AND FLEXIBILITY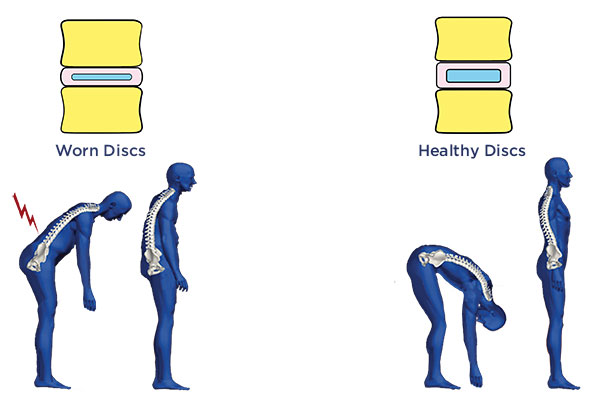 ---
WHAT is lost IN HEIGHT is gained ON THE WAISTLINE
Middle-age spread is caused by:

1. Lost height settling on the waistline.

2. Organs prolapsing around the waistline.
Squashed on top of each other, organs are less able to function properly.

Inversion helps reverse prolapse and regain original body shape.
As organs regain their original position their function improves.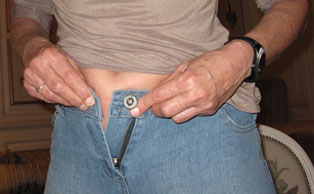 ---
BACK PAIN
Spinal nerves and facet joints rely on discs to maintain the gaps between vertebrae.
When discs are worn down the result can be pinched nerves and worn facet joints,
causing pain and inflammation.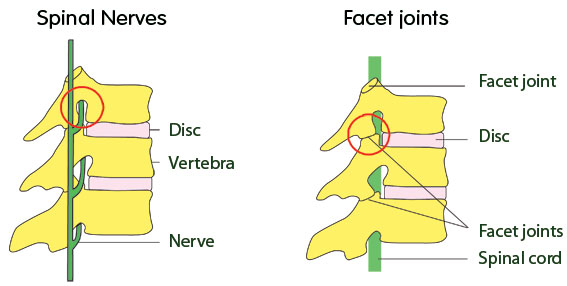 Spinal nerves ARE central TO BODY FUNCTION
The brain controls the body by way of the nervous system.
Nerves from the brain descend through the spinal cord to reach the organs, glands and parts of the body.

These nerves emerge through spaces between the vertebrae,
and depend on healthy disc spaces for unimpeded entry and exit.

A pinched nerve that provides for voluntary action, as in movement of
arms and legs, causes pain, and alerts you to the problem.
A pinched nerve that supports an organ or gland causes no pain, but impedes function.
Without clear communication, the organ or gland associated with that nerve cannot function properly.
With no warning signs, you remain unaware of the problem until symptoms manifest,
and even then the real cause may not be obvious.
Chart shows the spaces between the vertebrae where nerves emerge from the spinal cord to link to organs, glands and parts of the body: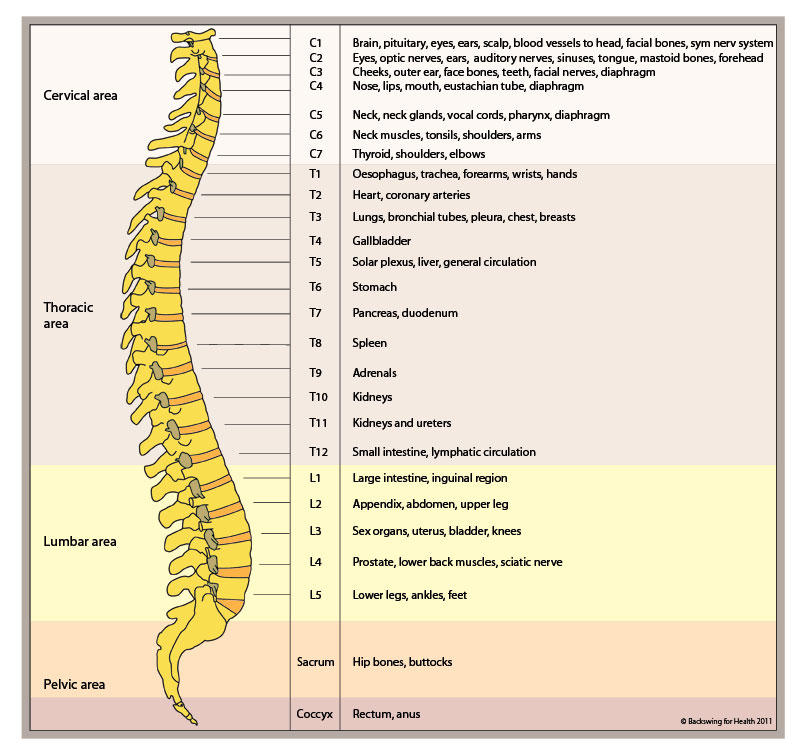 ---
THE FORGOTTEN REMEDY
REVERSE GRAVITY, REVITALISE

Hippocates, Father of Medicine, inverted patients on a ladder using ropes and pulleys.
This 2000-year-old treatment, now made more comfortable, not only targets the symptoms - it counteracts one of the most important factors contributing to back pain.
Given the chance, the body knows how to heal.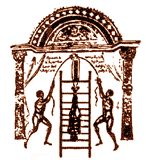 TURN-AROUND

Bert Morrow had 4 ruptured discs in his lower back at age 50.
A chiropractor friend recommended inversion.
At 69 he jumped his first hurdle, and began competing professionally. Balancing the compression of jumping by de-compression from inversion, he competed into his 90's as a world-class hurdler.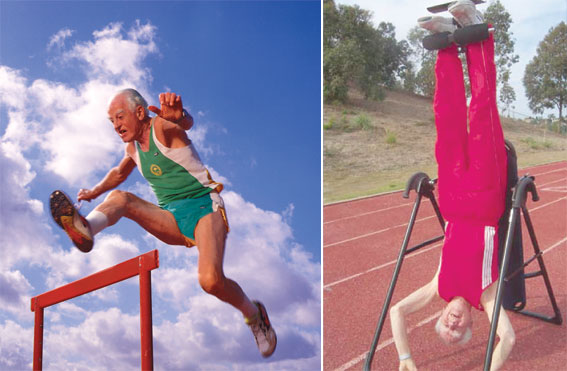 ---
REGENERATION
Inverted, your spine gently extends, spaces between the vertebrae widen to give
discs space to absorb moisture.

Like sponges, they expand and regenerate. Benefit has been recorded within the first 10 seconds.

The amount of regeneration possible depends on the current state of your discs,
so the earlier you start the greater the degree of recovery.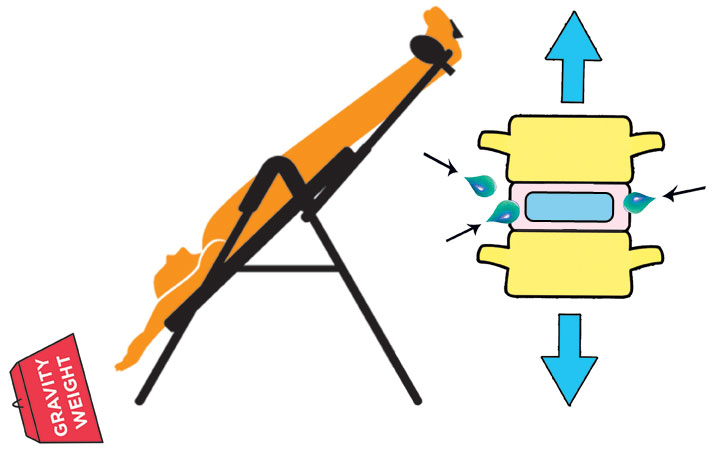 ---
MOISTURE-HOLDING CAPACITY
Getting discs to hydrate and regenerate is comparable to watering a pot-plant.

Soil that has dried out does not hold water, and most of it runs out the bottom.
Once you start watering regularly, the moisture-holding capacity of the soil improves.

Discs do the same - if you invert once, discs hydrate and dehydrate quickly.
but inverting regularly, the moisture-holding capacity improves.

---
THERE ARE 2 WAYS TO RELEASE PRESSURE
As discs expand you can gain up to 5 cm in height.
Space suits are made to allow for this boost.
Inversion has the same effect.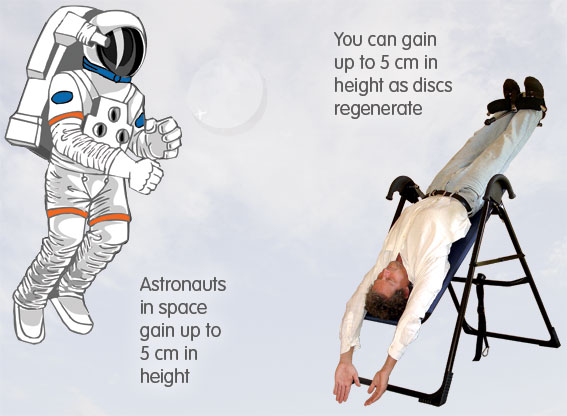 ---
MEDICAL STUDY ON BACK PAIN
77% CANCELLED SURGERY

Newcastle University (UK, 2007) conducted a study on sciatica caused by bulged disc.
While waiting for surgery 2 groups of patients underwent different forms of treatment.
Patients in the experimental group received inversion therapy.
Those in the control group attended stretch classes.
Inversion reduced the need for an operation by 78% compared to 23% in the control group.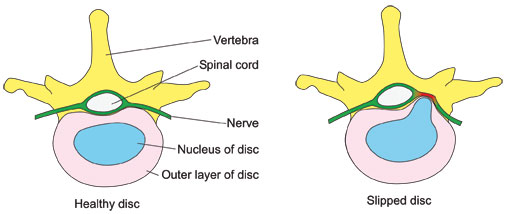 A "slipped" disc is a weak disc that bulges and may impinge on a nerve. Inverting relieves pressure and encourages the influx of fluids and nutrients that promote healing. Eventually the soft tissue that has extruded can be removed by the body and the disc may recover its proper shape. Even if it is unable to return completely to normal, regular de-compression can help keep the pressure off so there is no further damage or nerve impingement.


Summary of Newcastle study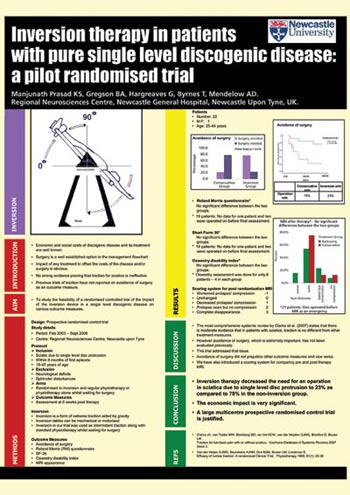 Click image or here to see a larger PDF version
---
COMMENTS
extracts from: Testimonials

... It has literally turned my life around ... L Jowett, Gauteng

... Inversion is the only thing that helps ... L Vercueil, Johannesburg
... pain-free......the best product ever. Dr M Rom, Johannesburg

The backswing has saved me ... J Immermann, de Rust
... helped me to avoid another back operation. S Rossouw, Pretoria
... now have painless full rotation in my neck ...Kenny Silke, Cape Town
... it's magic. KM, Harare
... no pain in shouders or lower back any more. Dr H Lotze, Cape Town
... works extremely well and product quality is superb. DF, Cape Town
... bend down to pick up things in a much more youthful way. A Howarth, Cheshire, UK
... more flexible and less pressure. T.O, Windhoek
... lack of any pain ... Joe Coetsee, Cape Town
... amazing success... C Spencer, New Zealand
... posture greatly improved ... very good product. M.S, Cape Town
... one of the best & most important pieces of exercise equipment ... J Eagleton, Personal Trainer
pain-free ... recommend it to everyone I know ... D.D, Cape Town
having great fun ... so energised after each use. KC, Cape Town
... rejuvenated and renewed ... just 2 minutes the back pain was gone. G Platte, Stellenbosch
spasm ... pain ... solution was the backswing ... hardly any back pain since ... J Hinton, Cape Town
Extracts from: Perspectives - What People Say


... helped his posture and stimulated his circulation ... relaxes... Part of the ADD is anxiety and anything that can combat this is a great help... excellent tool for an easily distracted child.
Les Aupiais: TV Personality, Radio Host, Editor, Coach
"... elite sprinter ... reduce muscle tension and the likelihood of ligament strains. ... enhanced flexibility and improved blood circulation ...helpful in any form of activity ... World Class race or a casual walk ... posture and circulation effects..
Sheri-Ann Brooks: Olympic Athlete

---
QUALITY
Teeter Hang Ups products are approved according to stringent US medical standards
that require a 400% safely factor

5-year warranty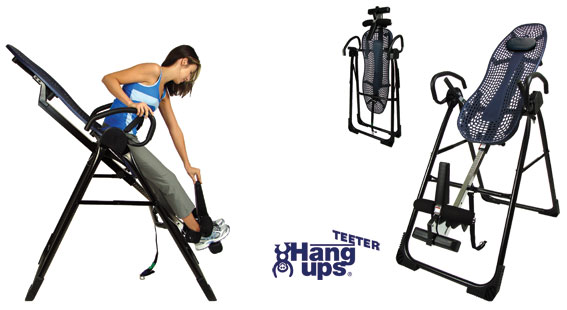 ---
10 GOOD REASONS TO INVERT
for 3 - 5 minutes a day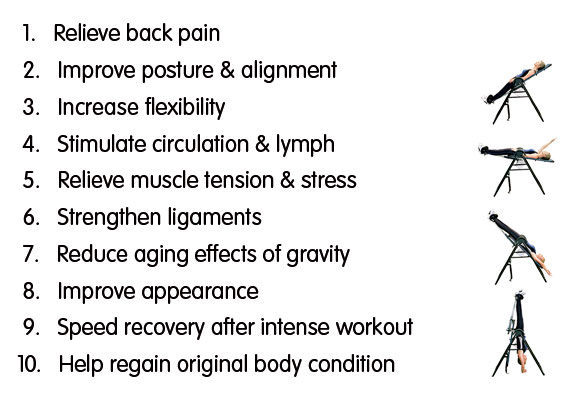 For more reasons to invert click here


© Copyright Backswing for Health 2007